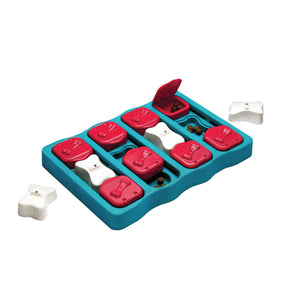 Outward Hound - Nina Ottosson Dog Brick
$3097

$30.97
Tax included.
---
---
Nina Ottosson Dog Brick
NEW WAYS TO LEARN & PLAY: As one of the newest, and most versatile dog games, the Dog Brick presents your pup with a new challenge every time they play with it.
FLIP, FIND & SLIDE: Complete with 3 different treat feeding features, the Nina Ottosson Dog Brick is made with easy open-close flip compartments to hide treats in, and comes with separate, removable bone puzzle pieces that offer an even more interesting challenge to seeking and eating treats! Your dog can easily slide and move each flip compartment to reveal even more hidden treats.
PUZZLE FUN: The Nina Ottosson Dog Brick is a great way to engage your dog. This treat training dog game occupies anxious dogs and entertains dogs when they become bored helping prevent destructive behaviors.
LEVEL 2 CHALLENGE: Different from the level 1 Nina Ottosson Dog games, level 2 dog games like this Dog Brick offer increased stimulation and learning options that your dog to benefit from the mental challenges dog games present and grow through interaction and fun with you!
PLAY TOGETHER: Nina Ottosson Dog Puzzle Games focus on challenging your dog's brain. Supervise when playing, and don't let the dog chew on the toy. Teach your dog how to use the puzzle, play and have fun together. Put away until next time.
EXERCISE FOR MIND AND BODY: Dog games and dog puzzles by Nina Ottosson challenge your dog's problem solving skills while enhancing your dog's mental stimulation through fun and play.
EASY TO CLEAN: To wash your dog's DogSmart, simply remove all treats/kibble and hand wash with warm soapy water, rinse clean and dry. Fill again for more fun!
Please note - this item is shipped directly from our wholesaler and will take approximately 7-10 days to arrive.
---
We Also Recommend