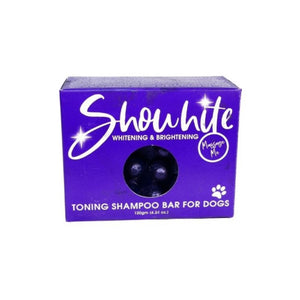 Showhite Shampoo Toning Bar for Dogs
$1124

$11.24
Tax included.
---
---
Showhite Shampoo Toning Bar for Dogs
A heavy-duty shampoo toning bar for white & light dog coats.
Introducing our new SHOWHITE Ultra Shampoo Toning Bar developed specifically for dogs! These bars have been concentrated with high quality cleansing ingredients, designed to strip dirt, urine, grease & other stubborn staining out. These bars are highly concentrated, so we suggest only using occasionally for those truly stubborn stains. 
Ingredients of finally ground volcanic pumice, colloidal oatmeal, lavender essential oil, lemongrass oil, & lemon oil will leave a beautiful fresh scent, deter parasites, and help with fungal infections. Anti-microbial & plant-based formula with added optical whiteners will eliminate brassiness and leave your pooches hair silky soft, with a vibrant natural shine.
A natural product from Bee Kind and Co.  120 gram
HOW TO USE: Apply the soap thoroughly to the hair by scrubbing with the massage bar until you get a good lather and the purple colour disappears, then rinse. Use warm/hot water for best results. Don't leave in too long before rinsing to avoid lilac tints. For an all round shampoo treatment we recommend washing first with our 'Naturally Shine' Kawakawa Bar.
---
We Also Recommend